Present your event guests with drama and excitement come dinner time, with our brilliant spit roast kit designed for our Platinum hog roast oven. This brilliant roasting add-on will allow you to create the unique flavours of a traditional spit roast using our modern technology. This best-selling set features a stainless steel spit pole and a 240 volt motor. It can hold up to 80kgs of meat, so that's a huge hog… or a lamb if you fancy something different.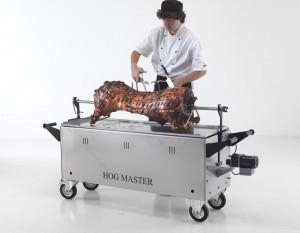 To use, the chef controls two thermostat burners beneath the spit pole – monitoring the process through the toughened glass viewing panel, which guests will also want to peek through. The real theatre of spit roasting comes to fruition when the meat is ready to carve. Raise the hog using the two support bars and get ready to carve in position, catching your trimmings in the carving tray. The carving tray is also heated by the burners so works as an effective hot plate until your meat is ready to be dished up.
Want to see our spit roast kit in action? Give us a call and arrange to see our equipment in our showroom. We'd love to assist you soon.