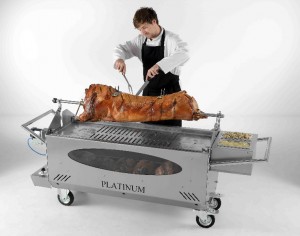 Here at hogroastoven.com we provide hog roasting machines to all types of catering businesses, from chefs that operate on their own through to large hotels. This means that we are perfectly placed to help you meet your hog roast catering needs, whatever the size of your business. We have a great deal of experience in this area of catering and want to use this experience to help you and your business.
We understand how important it is for you to impress your guests with the whole catering package that is on offer. Our Platinum machines are the ideal choice to help you to achieve this. Not only are they capable of producing some of the most succulent pulled pork that your guests would have ever tasted, but thanks to their very professional appearance they also look the part too.
The Best Range Of Hog Roast Machines
Hog roasts are becoming increasingly popular for both formal and more informal events, and part of the attraction is that people get the chance to see their food being cooked. The Platinum machine features see through glass panels so people are able to do just that. Ensuring that people remember your business for the food and the whole experience is essential for retaining customers and attracting new ones.
As well as the main unit, we are also able to offer a number of extension packs that can turn your hog roasting machine into a spit roast for pork and chicken, or into a BBQ. A number of spit roast poles for chicken can be attached to the machine which means that catering for large numbers is easily achieved. The BBQ option is an excellent addition to the machine because it allows a BBQ to be held safely indoors. Your clients will be reassured that whatever the weather is like on the day of their event, their guests will still be able to enjoy the food that they have planned for them. This vastly increases your catering options and can really help your business to expand by offering something that perhaps other hog roasting companies in your area do not.
The Right Hog Roast Machine For Your Business
Contact us today to find out how we can help your business, whether you are just starting out or have been established for a while and are looking to branch out into something new. We have many different options available for renting or purchasing these machines and we would be more than happy to help you decide which of these options is best for the needs of your business.